Amos

Amos came into care, having been stray for a few months. No owners found, but clearly loved once...... was he left behind in a move, did his owner pass away? Sadly, we will never know. But we DO know, that Amos is the sweetest most loving boy.
Amos came in with horrendously sore paws. In his front pads, most of the claws had grown so long, each had grown back, into the pad, causing lots of puncture wounds, and a huge abcess.
Despite all this pain, and sleeping out in the cold, Amos still was purring and so very loving.
His claws have been clipped. His abcess drained. He had blood tests to show all his vital organs are working beautifully, and he was tested, and is negative for FIV and FELV.
Amos is a little wobbly on his back legs, he has arthiritus we are sure. But, this is managed by a daily small dose of metacam, (like a calpol, for cats!)
Hes a love bug. He craves attention, he loves a cuddle and a fuss. There is not a bad bone in this boys body.
Amos is a very messy eater, despite his teeth looking perfect. He cant jump well, or climb, and likes everything on floor level.
The vets guess he is at LEAST 12 years young... maybe up to 16 years old... Amos is an old boy, who is lookinf for a special someone he can enjoy his "retirement" years with.
He WILL need a daily dose of his calpol for the forseeable, he will need his claws kept an eye on a clipped when needed....
Amos uses his tray beautifully, he has always been used to the outside we think, so if outsside access is available, it will need to be away from any busy main roads, and ideally a secure garden. We do feel Amos would be equaly happy in an indoor only home, with lots of space.
Amos needs a quiet home. He has been around other laid back cats and could live with another older, laid back kitty, with gentle introduction.
He really is a dream. We dont know his past, but we DO know, he just wants love, a quite life and someone for once in a long time, to take care of him and make sure hes ok.
Amos is neuetred of course, and microchipped now.
Homecheck applies and adoption donation of £60 is kindly asked.
Have you the perfect home for this dear boy? A quiet loving home, with a lap, and plenty of cuddles? If so, please, do message us and tell us more.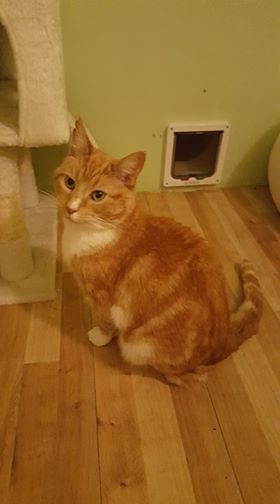 Hagrid
A renewed appeal for a forever home, for our loveable big, gentle, giant, Hagrid.
Hagrid came into care, nearly three months ago, after living for YEARS on the streets with no home.
Clearly once a domesticated boy, he's very loving, and has such a placid, sweet, and "regal" nature.
Hagrid, we know from feeders stories, had a real tough time fending for himself all those years, his ears have the battle wounds to show, and he fought off many, awful, infected, wounds all by himself, until he got the help he needed.
Hagrid arrived and was shown to be neutered, (hence, must have been loved at some point), but did need a full dental and some teeth extractions, along with a micro chip etc, and thankfully, we ran bloods and he tested negative for any nasties. (FIV and FELV Negative)
Hagrid is a gentle boy. He will tolerate other cats, and is in foster with other cats, but he keeps himself to himself a lot and we do think he would prefer an only cat home, OR a home with another laid back cat, with gentle introduction. Hes not a nasty bone in his body, but he could certainly do without the fuss of a kitten for example!
He would suit a home with no children, or a home with slightly older children, as, again, he's placid and gentle, but wouldnt like too much over bareing fuss and attention.
Hagrid just wants to relax, and just "be" now he is safe. His foster Mum sees him often perched on his cat tree, as she says "looking regal" watching the world go by.
He will of course need outside access once settled, (away from any busy main roads) he likes outside, though likely to not wonder far, and can use a cat flap.
He is fully litter trained for the initial staying in period.
Hagrid is AROUND 8 years old, we can't be sure of course, due to his background, but that's ours and the vets best guess!
He is neutered, chipped, vet checked, dental work done, and always now up to date on flea and worm treatment.
Hagrid needs a home and a family, he's been far too long without one. He deserves it so much, he is such a beautiful gent.
If you feel you have the right home and family to offer our dear boy, do please contact us and tell us more.
Hagrid is currently in foster care in Harwich, Essex.
Homecheck applies and adoption donation of £60 is kindly asked.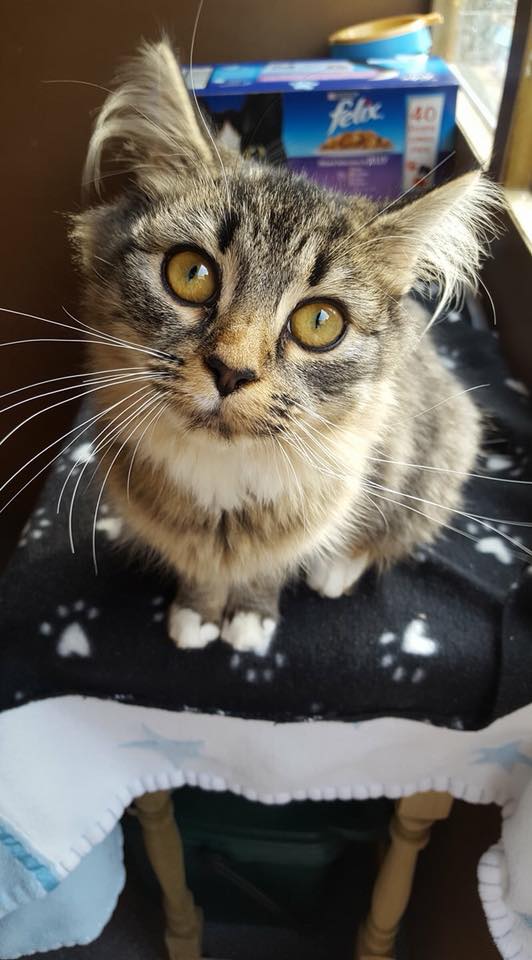 Evie

Please welcome Evie to Paws & Mittens.

Little lady arrived with us this morning, having, we believe, to be living stray for a few weeks, and suspected to have been left behind in a recent house move.

Evie is of course settling tonight, but already showing to be the most affectionate and loving little girl.

We think Evie is around 4-5 months old.

Evie will visit the vets next week for check up, neuter, and micro chip, and of course will be going under assessment to decide what home and family would suit little lady best.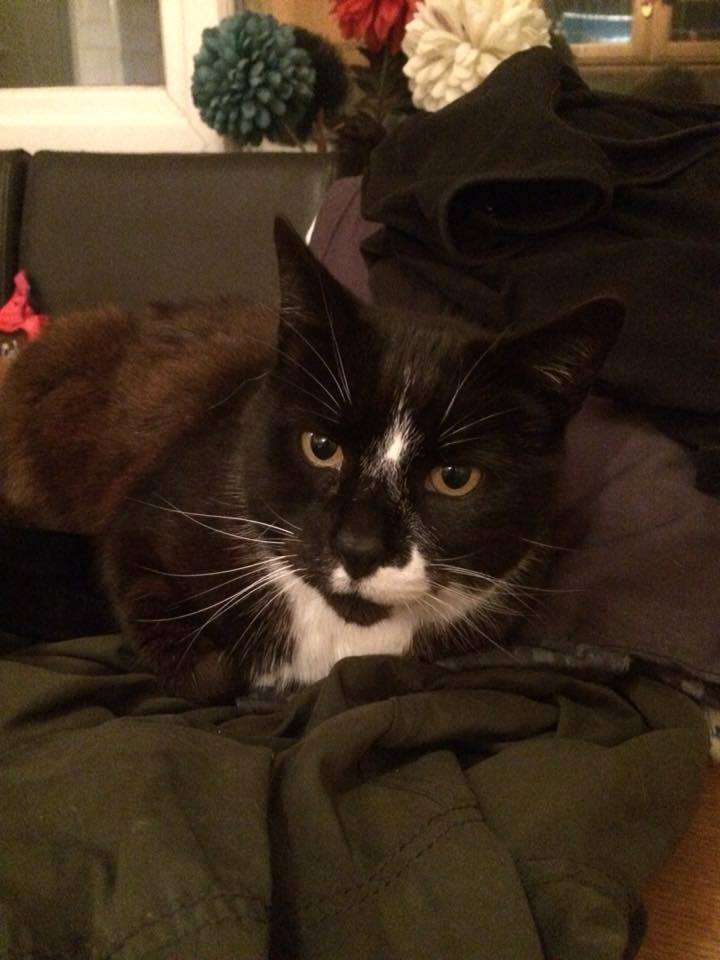 Minstrel
EXTRA SPECIAL, SUPER, HOME, REQUIRED....
Minstrel.... Our darling boy. who has been with us for nearly 4 months....
Minstrel has some "issues".. but none that can't be fixed, nor none that are his fault...
We have hazy knowledge of his past..... we DO know Minstrel was attacked by a dog(s) in the past, we DO know he was left behind in a house move 3-4 years ago, we DO know he has been living on the streets until he came into care here, in October 2017... hes had a real tough time of it.
Minstrel is a sweetheart. Hes kind, and gentle, he wants in, and he wants warm, and he wants a home.
However, Minstrel WILL likely go into any new environment and spray.... because, thats what hes had to do for so many years on the streets, and so many years scared.
He IS neutured, but hes worried all the time, when he is settling. So, he sprays, or urinates at the not so best places. (whilst using his tray for poops and most other wees)
We have had Minstrel at the vets, his urine sampled, he isnt unwell. Its a coping mechanism he has.
Minstrel HAS stopped spraying the last month, in his own "isolated" accomodation, but even that too took a few weeks for him to be safe in himself, to stop the occasional spray.
Hes not being "naughty", hes had has SUCH a rough ride, as soon as he feels secure, he wants to claim a new, safe area as his own,he WILL do it.... BUT, it will NOT go on forever.
Minstrel is 9 years old.
Hes spent 3+ years on the street.
Hes spent MONTHS in care.
He wants and needs a mum or dad to love him, to NOT let him down, and he needs to run around free again, once he is settled.
We are SURE the spraying will stop if the only cat, and once he can go outside, and once he knows he is settled and loved.
Minstrel has SO much love to give. He needs someone super special to step up and offer him a home, and the time he needs to relax again. to be loved again, by a family.
Minstrel cant be placed with young children as he has the very occasional "swipe" when worried, its only a small "swipe" again, hes never once hurt us, but we believe sadly based on a not so nice past....
:(
Minstrel will need a home with no other cats, or of course dogs....
We HAVE to be honest in our posts, we want all homes to be forever homes....
Minstrel IS a gorgeous gorgeous boy, and we love the bones of him, he really needs someone special to see this and give him the time and love he needs and craves..... Its all he wants..... hes a special super star.
Please share... lets get this boy "home"
<3 xx Humans have really let him down before, lets show him we arent all the same xx
Minstrel needs:
A loving mum / dad
<3
A safe room, ideally with washable floors until he can go out / is happy
No young childen
No other pets
Love and, dreamies.. ( he loves dreamies!)
Minstrel is neutered, chipped, vet checked, flea and worm treated, litter trained (apart from the odd spray!), he has had SIX (6) teeth removed in a recent dental, bless him, and is in foster in Harwich, Essex.
Homecheck and adoption donation applies.
Please share for Minstrel.... he deserves a home, so very much. Our gorgeous purring boy
<3